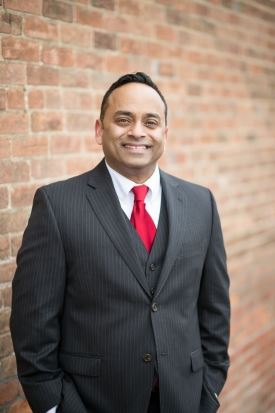 Mario Massillamany was elected by the partners of Massillamany Jeter & Carson LLP to serve as the firm's first managing partner beginning on January 1, 2019. Massillamany Jeter & Carson LLP is one of the fastest growing law firms in Central Indiana. "I want to continue the unprecedented growth that we have had over the last three and a half years without sacrificing our personal interaction with clients and our quality of work" Massillamany said. "Watch for a few big announcements as we are working on some aggressive moves in 2019."
Mario Massillamany graduated with a bachelor's degree in Rhetoric from Wabash College in 2000. He went on to earn his law degree from the University of Denver College of Law, where he served as the student body president and was a national finalist in Moot Court for Discussion. Mr. Massillamany focuses his practice on criminal defense, juvenile law, and government services. Prior to starting his own firm, he worked at Barnes & Thornburg LLP in the government services division. Mr. Massillamany also served as general counsel and communications director at the Marion County Prosecutor's Office.
Massillamany, Jeter & Carson, LLP is a full-service law firm based in Hamilton County but serving the entire State of Indiana. The firm focuses its practice in the areas of personal injury, criminal defense, corporate law, civil litigation, family law, estate planning, appeals and government services. The Firm has offices in Fishers, Carmel, Noblesville, Plainfield, Greenwood, and Lawrence.